RSP Tool Changers, locked by TrueConnect™
All robotic tool changers from Robot System Products feature the patented locking device, TrueConnect™. It reduces play to the minimum and enables absolute alignment repeatability throughout its lifespan. Industry leading longevity and positional flexibility when docking.
RSP Tool System Add-in for RobotStudio
With this add-in you can import a fully dressed robot directly into ABB RobotStudio with only a few clicks. The imported model is adapted to visually simulate the movement of the hose package. A function for tool change is also provided in the model.
CiRo – Maximize your hose package liftime
CiRo is a cost-effective solution to achieve the flexibility of internal cabling. Hoses and cables for air, signals and power can be selected according to the requirements of the application. Axis 6 can rotate with extended freedom.
CiRo Tool System Installation
This video shows how quick and easy the installation of the RSP Tool System is on a robot. The Tool System is a complete dress pack and a plug-and-play unit that lets you focus less on dressing the robot and more on the actual application. Save time and work by using RSP Tool Systems.
CiRo used in robotic camera application
The innovative rotary feed through holder from Robot System Products is the ideal solution for hose package problems. The patented product CiRo stands for Circular Rotator and works purely mechanically. The new system now enables a very space-saving, narrow and defined hose package guided by the robot. Offline simulation and programming have never been this easy! Optimize your cycle times with the CiRo concept for measuring, picking, handling, milling, loading, unloading and many other applications!
RSP Tool Systems for robots
By combining standard elements from our product palette, a complete tool system can be customized for your specific needs. When used together with our swivel tool changer, you benefit from a lean robot suitable for different applications. Spend your time on the application, and avoid struggling with equipment and accessories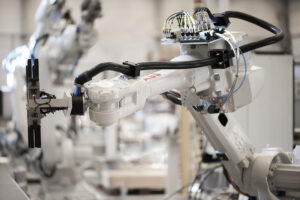 Rotations up to 500 degrees around axis 6. Free choice of cables and hoses. Withstands wear, dust and damp environments....
Read More